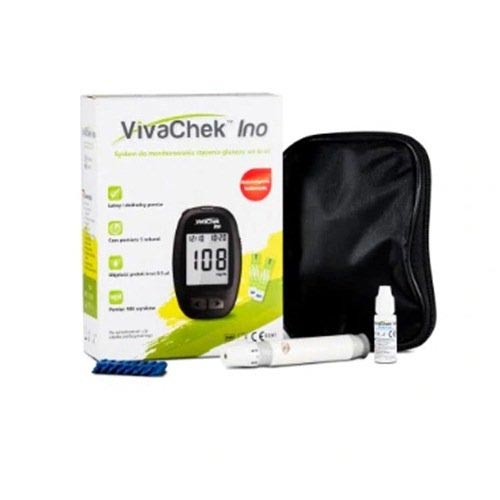 VivaChek Ino Glucose Test Meter
Stripe ejector–After use, you don't need to touch the blood on the strap.
900 results memory that maintains even when the batteries are modified.
Meals, warnings of hypoglycemia and ketone alarms.
Inadequate blood sample warnings and damaged strips.
A mini USB port for results download.
Recognizes control alternatives automatically.
Specification:
Unique device serial number.
The battery compartment is secure.
Stable mediator patented.
Keeping clean easily.
Two fast setup and operation buttons.
Technical data:
Measurement range: 0.6-33.3 mmol / L
Results calibration: plasma equivalent
Test: fresh capillary blood
Sample size: 0.5μl
Test time: 5 seconds
Power supply: 2 coin cell batteries CR 2031; 3.0 V
Battery life: 12 months or approximately 1000 tests
Memory: 900 results with date and time
Automatic shutdown: 2 minutes after the last action
Weight: approximately. 47 g (with batteries)
The temperature of operation: 5–45 ° C
Relative humidity: 10-90% (non-condensing)
Hematocrit Range: 20 –70%
Data port: Micro USB
Manufacturer: Vivachek Laboratories
Also Purchased
There is no review for this product!