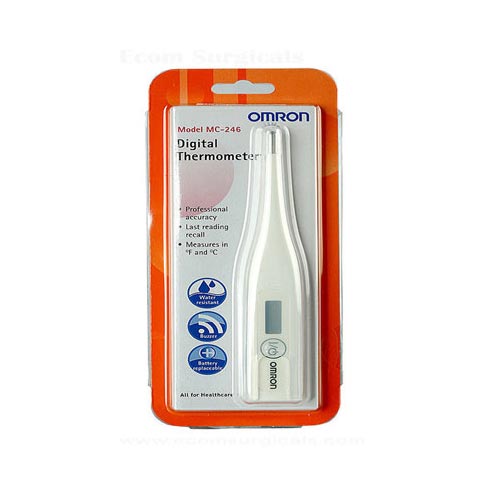 Omron Digital Thermometer MC-246
Professional accuracy
Flexible tip
Last reading recall
Water resistant
Beeps when measurement complete
Automatic shut-off
Readable in Celsius and Fahrenheit
Omron digital offers a safe, accurate and quick temperature reading. It eliminates any worries about broken glass or mercury hazards. Availability of models varies across countries. Please contact our local offices for more information.
Feature:
For oral, rectal and underarm temperature measurement
3-digit, + degree celcius (degree fahrenheit) display in 0.1 degree increment, beeps when measurement is completed
Measurement Accuracy : ±0.1 degree celcius (32.0 to 42.0 degree celcius); ±0.2 degree fahrenheit (89.6 to 107.6 degree fahrenheit)
Memory recalls last reading
Auto off function : Approximately 30 minutes after use or 3 minutes when not been used
Also Purchased
There is no review for this product!